Come for a coffee and admire the shear grandeur of this famous coffee house in the heart of Budapest
One of the most famous of coffee houses in, as the name suggests, a very central location just right to provide after-shopping refreshment being just east of the famous walking street Váci útca. Originally a meeting place for intellectuals, it has, in it's checkered history, also been a place for paprika buyers, university students as the infamous Eotvos Klub, and even video gamers when it was briefly called 'Wizzards'. Thankful now the Kavehaz has been restored to it's original glorious state complete with thonet chairs, marmor tables on cast iron legs, Persian carpets and English style leather club furniture with palm trees. The menu is varied, you are always guaranteed at least one gem of a dish if you look hard enough and prices are reasonable considering it's tourist pulling potential. Staff are friendly enough and attentive though not so attentive if you choose the balcony seating area due to the stairs and the distance from the kitchens I would guess. A thoroughly authentic experience and definitely one to add to your 'must do in Budapest' list. Oh, and the coffee is pretty good too.
District V, Karolyi Mihaly útca 9
Tel: +36 1 266 2110
More on Budapest:
Offering fine dining at a good price Baraka is sure to please
One of the best restaurants in Budapest for international cuisine and well located in the fifth district this is not the place to come for an authentic Hungarian dish. Primarily intended as a trap for ...
A great introduction to Hangarian cuisine with retro decor and a large outside seating area makes Menza a firm favourite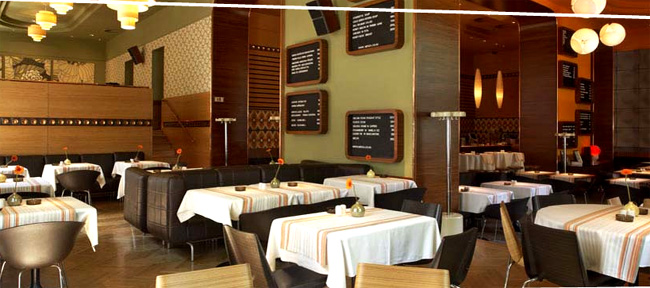 One block away from the Octogon on the famous Andrássy Utca you'll find a pleasant promenade of restaurant and bars which in Summer spill out onto the walking street. Amongst these is Menza, a modern ...
Centrally located on Andrassy avenue and offering a mix of Spanish, Italian, Thai, Chinese, Japanese and Hungarian food
A restaurant whose decor hints at Asia but whose food is influenced by a much wider sphere. Our group of five managed to tick off 6 countries: Spanish, Italian, Thai, Chinese, Japanese and a damn good ...
Award Winning Clinic

Latest winner of the prestigious Best of Budapest award
I was so conscious of the state of my teeth. Having this treatment has changed my life.
...The cost of the work done beats any UK practice and I will be recommending any and all individuals that I talk to regarding the fantastic work completed on my teeth.