Offering fine dining at a good price Baraka is sure to please
One of the best restaurants in Budapest for international cuisine and well located in the fifth district this is not the place to come for an authentic Hungarian dish. Primarily intended as a trap for tourists it does however trap them in a very pleasant way. The food is excellent, the staff are attentive and the over all experience is one that you would expect from any good quality international restaurant found anywhere in the modern world. You are advised to book in advance.
District V, Budapest, Magyar útca 12-14.
Tel: +36 1 483 1355
More on Budapest:
Come for a coffee and admire the shear grandeur of this famous coffee house in the heart of Budapest
One of the most famous of coffee houses in, as the name suggests, a very central location just right to provide after-shopping refreshment being just east of the famous walking street Váci útca. Ori ...
Centrally located on Andrassy avenue and offering a mix of Spanish, Italian, Thai, Chinese, Japanese and Hungarian food
A restaurant whose decor hints at Asia but whose food is influenced by a much wider sphere. Our group of five managed to tick off 6 countries: Spanish, Italian, Thai, Chinese, Japanese and a damn good ...
A great introduction to Hangarian cuisine with retro decor and a large outside seating area makes Menza a firm favourite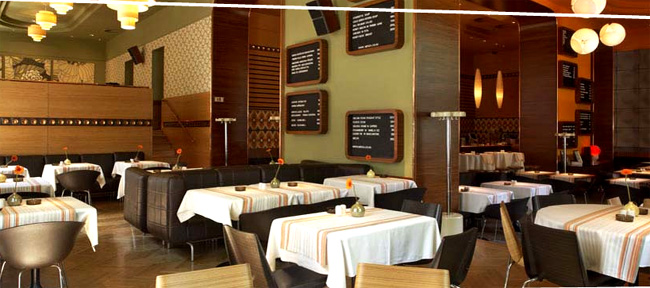 One block away from the Octogon on the famous Andrássy Utca you'll find a pleasant promenade of restaurant and bars which in Summer spill out onto the walking street. Amongst these is Menza, a modern ...