More restaurant than bistro and recently awarded the coveted Michelin Bib award this out of the way Buda eatery offers fine food, wines and service at a somewhat reasonable price
Staying on the Buda side of the city? Well now you don't have to cross the Danube to experience fine dining. Recently awarded a coveted Michelin Bib Gaudard – the not so famous lesser cousin of the prized Michelin star – Arcade Bistro now ranks in the top 5 restaurants in Budapest at least according to the Michelin Guide. An international menu to suit most tastes presented beautifully and complimented by excellent and non-obtrusive service set in calm surroundings complete with centre piece pillar waterfall is sure to please and won't break the bank. Booking advisable.
More on Budapest:
Open throughout the day and always busy this central Buda restaurant offers a great dining experience
Another gem situated not too far from the Danube on the Buda side of the city just the other side of the tunnel which leads from the chain bridge. Always bustling with a smart local clientèle from mo ...
Centrally located on Andrassy avenue and offering a mix of Spanish, Italian, Thai, Chinese, Japanese and Hungarian food
A restaurant whose decor hints at Asia but whose food is influenced by a much wider sphere. Our group of five managed to tick off 6 countries: Spanish, Italian, Thai, Chinese, Japanese and a damn good ...
Need a fix of good old fashioned traditional Hungarian diner time entertainment then look no further than Kéhli Vendéglo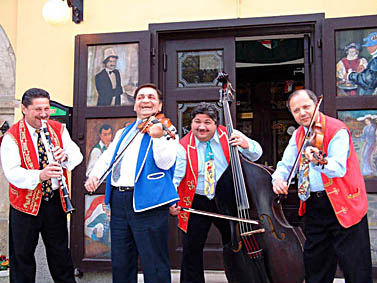 This traditional Hungarian restaurant is unusual in our round up in that it is relatively out of the way for most people but in reality it is well worth the short taxi ride across to the Buda side opp ...