For routine cases, from the time of dental implant placement to the time of placing the first teeth, treatment times can vary between 3 – 12 months. The availability of better bone can be used to decrease treatment time, whilst more time and care must be taken with poorer bone, which can therefore extend treatment times beyond six months. If there is no reason to shorten the duration of your treatment then be prepared to wait – nobody loses a dental implant from being patient and allowing nature to take its course.
See the following case studies for an example:
Case Study – Missing molars and discolouration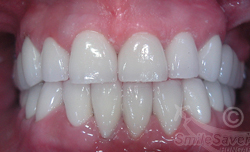 Having lived with discoloured and missing teeth our client longed for a fuller, more even and whiter smile which was achieved with a combination of dental implants and dental crowns in …
Case Study – Dental implants and fixed bridges
Our client decided to visit us for a London consultation when her front tooth broke off by the gum line and there was urgent need for a full mouth rehabilitation. Her …
Award Winning Clinic

Latest winner of the prestigious Best of Budapest award
It's quite different from my experiences in the UK. I really felt that I was in good hands....
"It feels so good to not have to shy away from eye contact and covering my mouth up when talking to people,"