Dental implants are routinely placed beside natural teeth and this is generally very safe to do. The only exception to this would be if the natural root was very curved or tilted unfavourably in the proposed path of the implant. This could cause the root to be damaged by the implant, however this can usually be avoided by careful pre-operative planning. If a tooth is inadvertently damaged by the placement of a nearby implant, any resulting problems can generally be resolved by root canal treatment in which the nerve of the natural tooth is removed.
See the following case studies for an example:
Case Study – Missing molars and discolouration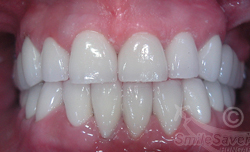 Having lived with discoloured and missing teeth our client longed for a fuller, more even and whiter smile which was achieved with a combination of dental implants and dental crowns in …
Case Study – Camlog Implants
Louise was suffering from recurring abscesses for years and was in and out of a dental chair. Her NHS dentist couldn't offer her any treatment apart from extractions and dentures, …
Award Winning Clinic

Latest winner of the prestigious Best of Budapest award
The whole family saved £27,000 but best of all, I was able to walk down the aisle with complete confidence
...The clinic was great, dentists made me feel at ease, the treatment was of a very high level (I've been to lots of dentists both in the UK and Australia).