our client hit the front page in The Sentinel. The story reports Louise Webb's journey to get treatment in Budapest after she was denied the treatment she wanted on the NHS. Louise was absolutely delighted with the results, which can clearly be seen in the photographs, and managed to reduce her dental bill down from the UK quoted £60,000 to a much more reasonable £12,000. The treatment has clearly changed her life. Louise is now more out-going, has more confidence and feels 15 years younger!.
Click the top image to read the front page in a new window
Click the bottom image to read the inside page in a new window
Related Smile Saver's Press:
...
Deborah Wain covers Alan Hemmingway's story as he returns from our clinic in Budapest. Alan says he is 'all smiles' after the treatment and no wonder, he was quoted £53,000 by one UK dentist and by t ...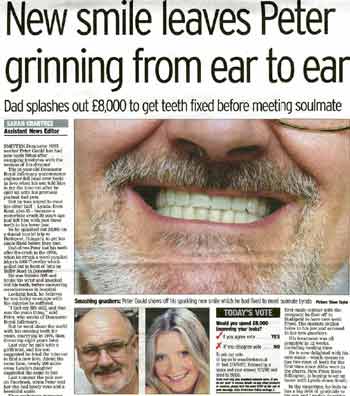 ...
Award Winning Clinic

Latest winner of the prestigious Best of Budapest award
"Dentures were not a choice I was willing to consider and I knew the treatment I needed was going to be extremely expensive in the UK,"
...I cannot even begin to thank you and the marvellous staff in the clinic for what you have all achieved, have not stopped smiling since I retuned home...