This photos shows the patient's teeth prior to the treatment. The lateral incisors were protruding, the upper and lower front teeth were uneven and some molar teeth were missing.
The upper and lower front teeth were corrected, evened out and brightened up with metal free zirconium dental crowns and the missing teeth were replaced with dental bridges.
A straight and fully functioning smile was achieved by our dentists in Budapest with a combination of metal free zirconium crowns and porcelain fused to metal dental bridges.
Details of the Treatment
Polish & clean with plaque removal
16 Zirconium metal free crowns
24 Temporary crowns
6 Build up with post
6 Root canal treatment
Time Required to Completed Treatment: 5 days
Estimated Client Savings:
Over £15300
Dentists associated with this case
| | |
| --- | --- |
| Cosmetic Dentist | Cosmetic Dentist |
| | |
Related Case Studies:
The client had large gaps between the incisors and lateral incisors and the lower teeth were uneven and stained.The gaps between the upper front teeth were closed and the lower teeth were evened out a ...
The client had overcrowded teeth mostly at the lower front area and the upper teeth were slightly uneven and asymmetric.Both upper and lower jaw were evened out and brightened up with zirconium metal ...
On the first photo we can see that our client was missing his molar teeth, his teeth were broken, worn down and the front crowns were uneven.On the first visit Dr. Kaman inserted 5 Camlog dental impla ...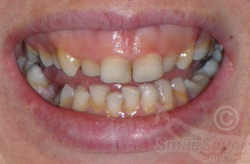 Our client had a gummy smile and her teeth were uneven, heavily stained, and some were missing.Our client's gum line was raised with gum contouring, then after 8 weeks healing zirconium metal free cro ...