Having lived with missing teeth, ill-fitting dentures and worn down lower teeth, our client was in urgent need of a smile transformation, which was achieved with dental bridges and dental crowns.
Details of the Treatment
Ultrasonic polish & clean
12 unit porcelain bonded bridge
9 Porcelain bonded crowns
2 Composite fillings
Time Required to Completed Treatment: 5 days
Estimated Client Savings:
Over £8500
Dentists associated with this case
| | |
| --- | --- |
| Cosmetic Dentist | Cosmetic Dentist |
| | |
Related Case Studies: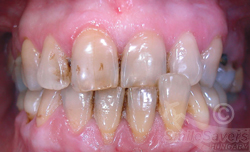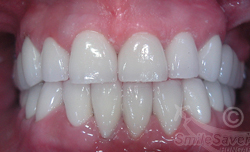 The clients teeth were heavily discoloured, misaligned and 4 molars were missing. Dr. Kaman carried out some extractions and inserted 4 dental implants in the molar area which required 3 months healin ...
The clients upper front teeth were heavily decayed and damaged from acid erosion.The clients upper teeth were restored, brightened up and evened out with porcelain bonded crowns and root canal treatme ...
The client had overcrowded teeth mostly at the lower front area and the upper teeth were slightly uneven and asymmetric.Both upper and lower jaw were evened out and brightened up with zirconium metal ...
The first picture shows the x-ray of the patient after dental implant placing and upper & lower bridge fitting. 9 Branemark dental implants were used in the upper jaw and 5 Branemark dental implants ...