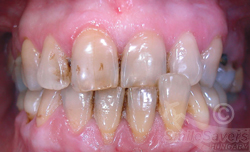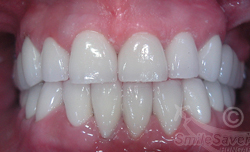 The clients teeth were heavily discoloured, misaligned and 4 molars were missing. Dr. Kaman carried out some extractions and inserted 4 dental implants in the molar area which required 3 months healing.
After the healing period the client was ready to return to Budapest for the cosmetic part of the treatment, which was carried out by Dr. Juhasz. Metal free zircon crowns were used for the front and porcelain bonded crowns for the premolar and molar teeth to provide an outstanding aesthetic result.
Having lived with discoloured and missing teeth our client longed for a fuller, more even and whiter smile which was achieved with a combination of dental implants and dental crowns in Hungary.
Details of the Treatment
2 upper molar extractions
4 upper and lower molar Camlog dental implants
5 Composite fillings
3Root canal treatments and build ups
11 upper and lower front Zircon metal free crowns
17 porcelain bonded crowns
Time Required to Completed Treatment: 2 x 2 day visits 2 weeks apart
Estimated Client Savings:
Over £21000
Dentists associated with this case
| | |
| --- | --- |
| Oral and Maxillofacial Surgeon, Dentist | Cosmetic Dentist |
| Cosmetic Dentist | Cosmetic Dentist |
Related Case Studies:
On the first photo we can see that our client was missing his molar teeth, his teeth were broken, worn down and the front crowns were uneven.On the first visit Dr. Kaman inserted 5 Camlog dental impla ...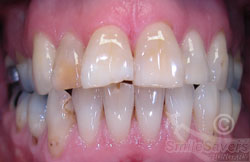 This photos shows the clients teeth, which were heavily discoloured, there were old crowns on the upper front teeth and premolars and some of the molar premolars were also missing.Our clients teeth we ...
Our client's teeth were chipped, discoloured and some were missing.The function was restored with dental implants and the aesthetic improved with zirconium metal free crowns and porcelain fused to met ...
The clients front teeth were heavily discoloured and multicoloured.A full mouth makeover was achieved with a combination of zircon metal free and porcelain bonded crowns and dental implants.Our client ...