On the first photo we can see that our client was missing his molar teeth, his teeth were broken, worn down and the front crowns were uneven.
On the first visit Dr. Kaman inserted 5 Camlog dental implants and carried out an upper left and right sinus elevation bone graft. 6 months later Dr. Klenk inserted a further 4 upper dental implants which required an additional 4 months healing.
After 10 months healing our client returned to Budapest for 3 days to have all his crowns prepared, impressions taken and an upper and lower temporary bridge fitted. An additional 2 weeks later his dental work was complete with a combination of crowns and bridges. The final part of his treatment required a 3 day trip.
This photo shows the client after the final part of his treatment. A combination of metal free zirconium crowns and porcelain fused to metal crowns were used to provide a pleasing aesthetic result.
Longing for brighter and more pleasing smile our client decided to travel to Budapest for a smile makeover. Replacing the molar teeth and the old and multicolour crowns, a fully revitalised look was achieved with a combination of zircon metal free and porcelain fused to metal crowns.
Details of the Treatment
2 composite fillings
4 upper and 5 lower Camlog dental implants
2 Sinus elevation bone grafts
18 porcelain fused to metal crowns/bridges
10 zircon metal free crowns
4 build ups
4 Extractions
Time Required to Completed Treatment: 4 visits, 6 and 4 months apart. The first visit was for 3 days, the second visit 2 days, the 3rd and 4th visit required 3 – 3 days.
Estimated Client Savings:
Over £32500
Dentists associated with this case
| | |
| --- | --- |
| Specialist Oral Surgeon and Maxillofacial Surgeon, Dentist | Cosmetic Dentist |
| Dentist | |
Related Case Studies:
On the first photo we can see that our client was missing her molar teeth, her teeth were broken, worn down and the front crowns were uneven.Dr. Kaman inserted 8 upper and 8 lower Camlog dental implan ...
Here we can see that the client was suffering from advanced gum disease and all of the upper and lower teeth were loose. Dr. Kaman extracted 26 teeth and a full upper and lower temporary denture was ...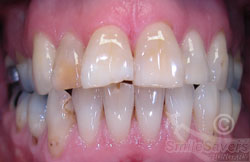 This photos shows the clients teeth, which were heavily discoloured, there were old crowns on the upper front teeth and premolars and some of the molar premolars were also missing.Our clients teeth we ...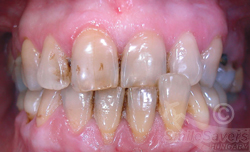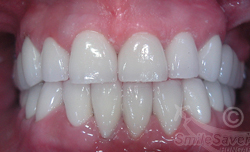 The clients teeth were heavily discoloured, misaligned and 4 molars were missing. Dr. Kaman carried out some extractions and inserted 4 dental implants in the molar area which required 3 months healin ...
Award Winning Clinic

Latest winner of the prestigious Best of Budapest award
The whole family saved £27,000 but best of all, I was able to walk down the aisle with complete confidence
...I am absolutely delighted with the results of my dental treatment. I can't tell you what a difference it has made, not only to the way I look, but to my confidence also...