Decay and discolouration badly aged our client's smile, therefore she was determined to undergo a smile makeover which brightened and straightened her smile with a combination of zircon metal free dental crowns and zoom 1 hour teeth whitening.
Details of the Treatment
6 upper Zircon metal free crowns
4 upper porcelain fused to gold crowns
7 Composite fillings
Zoom 1 hour teeth whitening
Polish and clean
Time Required to Completed Treatment: 5 days
Estimated Client Savings:
Over £7400
Client Testimonial:

Hi Veronika,
Just wanted to let you know how pleased I am with the outcome of my treatment last week at the Implant Center. Dr Juhasz was lovely, and despite spending some time in the dentist chair I found the experience better than I expected.
I would have no hesitation recommending Smile Savers to friends or family.

Best Regards, LC
Dentists associated with this case
| | |
| --- | --- |
| Cosmetic Dentist | Cosmetic Dentist |
| | |
Related Case Studies:
Our client was missing her UL2 and her canines and lateral incisors were small and pointy.The upper teeth were restored with a metal free zirconium bridge to provide a more even and aesthetic result.U ...
Showing visible signs of deep enamel damage to our client's upper front teeth she opted for a long lasting correction by porcelain crowns.Details of the Treatment6 upper Zircon metal free crowns4 Porc ...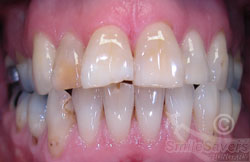 This photos shows the clients teeth, which were heavily discoloured, there were old crowns on the upper front teeth and premolars and some of the molar premolars were also missing.Our clients teeth we ...
Our young client was in urgent need of a confidence boosting smile makeover, which our dentists in Budapest achieved by a combination of porcelain veneers and crowns.Details of the Treatment5 upper po ...
Award Winning Clinic

Latest winner of the prestigious Best of Budapest award
It's quite different from my experiences in the UK. I really felt that I was in good hands....
...My experience at the Implant Centre was faultless. The clinic itself is very modern and extremely clean. The receptionists are very friendly and did everything they could to help