The clients upper front teeth were heavily decayed and damaged from acid erosion.
The clients upper teeth were restored, brightened up and evened out with porcelain bonded crowns and root canal treatment.
This client was extremely self conscious of her decayed and acid eroded front teeth and urgently needed a confident boosting smile makeover which was achieved with dental crowns and composite fillings.
Details of the Treatment
Polish & clean with plaque removal
12upper porcelain bonded crowns
2 Root canal treatments
Zoom teeth whitening: lower teeth
5 Composite fillings
Time Required to Completed Treatment: 5 days
Estimated Client Savings:
Over £5340
Dentists associated with this case
| | |
| --- | --- |
| Cosmetic Dentist | Cosmetic Dentist |
| | |
Related Case Studies:
This photos shows the patient's teeth prior to the treatment. The lateral incisors were protruding, the upper and lower front teeth were uneven and some molar teeth were missing.The upper and lower f ...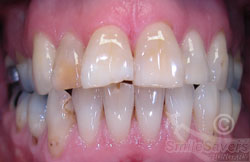 This photos shows the clients teeth, which were heavily discoloured, there were old crowns on the upper front teeth and premolars and some of the molar premolars were also missing.Our clients teeth we ...
The client had overcrowded teeth mostly at the lower front area and the upper teeth were slightly uneven and asymmetric.Both upper and lower jaw were evened out and brightened up with zirconium metal ...
Showing visible signs of deep enamel damage to our client's upper front teeth she opted for a long lasting correction by porcelain crowns.Details of the Treatment6 upper Zircon metal free crowns4 Porc ...