The client had overcrowded teeth mostly at the lower front area and the upper teeth were slightly uneven and asymmetric.
Both upper and lower jaw were evened out and brightened up with zirconium metal free crowns.
The client was concerned about his overcrowded lower and uneven upper teeth, which were successfully corrected with metal free zirconium crowns.
Details of the Treatment
Polish and clean with plaque removal
3 Build up with post
16 Temporary crowns
14 Zirconium metal free crowns
3 Root canal treatment
2 Porcelain fused to metal crowns
Zoom 1 hour professional teeth whitening
Time Required to Completed Treatment: 5 working days
Estimated Client Savings:
Over £8500
Dentists associated with this case
| | |
| --- | --- |
| Cosmetic Dentist | Cosmetic Dentist |
| Cosmetic Dentist | |
Related Case Studies:
The client had large gaps between the incisors and lateral incisors and the lower teeth were uneven and stained.The gaps between the upper front teeth were closed and the lower teeth were evened out a ...
This photos shows the patient's teeth prior to the treatment. The lateral incisors were protruding, the upper and lower front teeth were uneven and some molar teeth were missing.The upper and lower f ...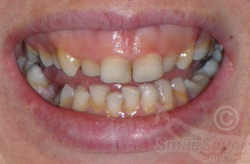 Our client had a gummy smile and her teeth were uneven, heavily stained, and some were missing.Our client's gum line was raised with gum contouring, then after 8 weeks healing zirconium metal free cro ...
Our client was missing her UL2 and her canines and lateral incisors were small and pointy.The upper teeth were restored with a metal free zirconium bridge to provide a more even and aesthetic result.U ...
Award Winning Clinic

Latest winner of the prestigious Best of Budapest award
It wasn't just the clinic's high tech approach to dentistry which impressed Claire and David, they fell in love with everything that Budapest has to offer.
...I cannot even begin to thank you and the marvellous staff in the clinic for what you have all achieved, have not stopped smiling since I retuned home...