Our young client was in urgent need of a confidence boosting smile makeover, which our dentists in Budapest achieved by a combination of porcelain veneers and crowns.
Details of the Treatment
5 upper porcelain veneers
1 upper Zircon metal free crown
Zoom 1 hour teeth whitening.
Time Required to Completed Treatment: 5 working days
Estimated Client Savings:
Over £2900
Client Testimonial:

Hi Veronika,

I just wanted to say a quick thank you for the flawless arrangements that you undertook for me for my recent trip to Budapest.
The transfers were handled well and the accommodation was of excellent quality and value for money. I want to thank Dr.
Juhasz and her assistants for the miracle that they painlessly performed during my week in Budapest. I can beam a
confidence smile again, for the first time in many years, thanks to their expertise. Finally,
please pass on my thanks to Dr. Kaman and Dr. Klenk for being so friendly and for making me
feel so welcome to their beautiful city.
Yours sincerely, J T, UK.
Dentists associated with this case
| | |
| --- | --- |
| Cosmetic Dentist | Cosmetic Dentist |
| | |
Related Case Studies:
Decay and discolouration badly aged our client's smile, therefore she was determined to undergo a smile makeover which brightened and straightened her smile with a combination of zircon metal free den ...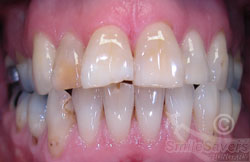 This photos shows the clients teeth, which were heavily discoloured, there were old crowns on the upper front teeth and premolars and some of the molar premolars were also missing.Our clients teeth we ...
Russell Fraser's teeth had been damaged by a teeth whitening product that he purchased on the internet and the excessive consumption of soft drinks and fruit juices. He urgently needed a smile makeov ...
Concious of a slightly discoloured and uneven smile our client wanted to revitalise her image with porcelain veneers and teeth whitening. The dental treatment in Budapest only required 5 working days. ...
Award Winning Clinic

Latest winner of the prestigious Best of Budapest award
Emma's confidence was seriously affected as she felt very conscious about her smile.
...for the first time in years I can eat steak and apples and peanuts etc and when a camera is pointed at me I can now smile in confidence because my teeth are beautiful...