Russell Fraser's teeth had been damaged by a teeth whitening product that he purchased on the internet and the excessive consumption of soft drinks and fruit juices. He urgently needed a smile makeover to restore his teeth to their natural shape and size, and this was achieved with metal free zirconium crowns.
Details of the Treatment
Ultrasonic polish & clean
21 Composite Fillings
18 Zircon metal free crowns
Time Required to Completed Treatment: 9 days
Estimated Client Savings:
Over £17100
Client Testimonial:

Hi Veronika,

Thank you for all your help in arranging my trip to Budapest, in the end I had 18 Procera crowns and now have a perfect smile !!!
This might sound funny but after two years hiding my teeth, since the treatment I have now had to learn how to smile properly again. The treatment has basically given me a "Hollywood" smile and now I get lots of comments saying how beautiful my teeth are. Thanks again.

Russell Fraser
Dentists associated with this case
| | |
| --- | --- |
| Cosmetic Dentist | Cosmetic Dentist |
| | |
Related Case Studies:
Decay and discolouration badly aged our client's smile, therefore she was determined to undergo a smile makeover which brightened and straightened her smile with a combination of zircon metal free den ...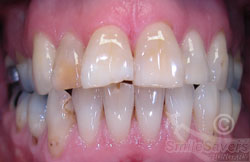 This photos shows the clients teeth, which were heavily discoloured, there were old crowns on the upper front teeth and premolars and some of the molar premolars were also missing.Our clients teeth we ...
Our young client was in urgent need of a confidence boosting smile makeover, which our dentists in Budapest achieved by a combination of porcelain veneers and crowns.Details of the Treatment5 upper po ...
The clients upper front teeth were heavily decayed and damaged from acid erosion.The clients upper teeth were restored, brightened up and evened out with porcelain bonded crowns and root canal treatme ...